8 Truths about PTSD in Parents of Kids with Special Needs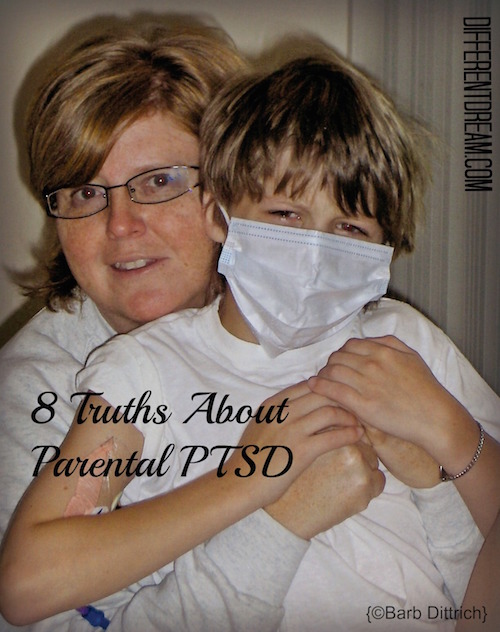 Welcome to Different Dream's ongoing series about PTSD in parents of kids with special needs. (You'll find links to the rest of the series at the bottom of the page.) Today's guest post comes from Barb Dittrich, parent of a child with hemophilia and founder of Snappin' Ministries. She's here to share 8 truths she's learned about PTSD as the parent of a child with special needs. See if any of them ring true for you.
8 Truths about PTSD in Parents of Kids with Special Needs
Most of us have heard the expression "Physician, heal thyself." While there is no similar phrase for parents, perhaps we should be embracing the wisdom of "Caregiver, care also for thyself." I often speak of having my focus so much in caring for my children that I don't lift my head enough to acknowledge my own needs. In fewer ways is this true than in dealing with my parental PTSD.
Because of the subsequent traumas that ensued, the initial shock of having my son diagnosed with severe hemophilia the day after he was born never seems to fade. Each year at his birthday, I can feel the tingle of my face as if it were yesterday that the nurse erroneously exposed the results of our son's cord blood test. April 12, 2000 will live in vivid technicolor in my mind forever. I can hear our pediatrician's voice confirming our worst fears, see the melting ice wrapped around his little heel as he continued oozing from the prick of a bilirubin test, and feel myself sit in the rocking chair of the ICU with him as he received his first infusion of clotting factor.
Fast forward over the years to his first hospitalization for a serious bleeding episode, and I can still smell that unmistakable, horrific, pungent odor of someone who is bleeding internally. I can see myself in a panic in my kitchen, crying on the phone to the doctor, who wouldn't admit him overnight for something so frighteningly dangerous. I can see him sandwiched between the machines as I held his hand, trying to keep him still by introducing him to Sponge Bob for the first time on video, over an hour ticking by to get the images for his diverticulogram, praying that they might find the life-threatening source of the bleeding. Yet, the emotional horror that can never be extracted from my heart was his screaming in pain as I held him in restraint for his twelfth intravenous needle jab in less than 24 hours, "Dad! Help me! Make them stop! Oh, my God! Why aren't you helping me? You're my dad! You're supposed to be helping me!" I can still feel the hot tears helplessly draining down my face as I did what needed to be done.
My heart! How can I ever be expected to be the same again?
Hemophilia is the type of chronic illness that can make life feel like you are continually walking through a mine field. You never know when a bleed might occur. The things you might think would be a problem, like having a tooth pulled, end without incident. Another day, your child suddenly gets into the car after school feeling pain in their upper thigh and is hospitalized that evening with a life-threatening hip bleed.
Having walked through all of these things, here are some truths I can share with you about realizing that not only my son, but I too live with medically triggered PTSD:
Your child's trauma is separate from your trauma. While your child definitely deals with life-changing crises, your trauma is separate and distinct from your child's. For example, while my child's trauma is feeling the attack and powerlessness of being restrained to be jabbed with a needle, my trauma is restraining him, hearing him scream out in pain, and being unable to stop it. My trauma is seeing the pools of frank blood on our kitchen floor, covering multiple surfaces in our bathroom, or saturating bed linens and clothes.
Prayer and Scripture are critical, but don't forget that God moves through mental health professionals too. From little on, I taught my son to do deep breathing and memorize verses like, "Be anxious for nothing," (Philippians 4:6) or "I can do all things through Christ who strengthens me." (Philippians 4:13) We would pray these through before we infused as a way to calm down. That is a good thing. However, as the number of crises increased, it became apparent we needed more help. Sadly, the Church (including us, its members) can forget that in addition to working through prayer and the Word, God also works through people. This includes medical and therapeutic professionals. I have been blessed to have worked with a number of competent, helpful psychotherapists, psychologists, and psychiatrists over the years.
Your trauma will be triggered by things you expect and things you don't expect. You will probably not be surprised to hear that writing this narrative for you opened my grief afresh. However, you may find yourself startled as I did that first time I discovered merely seeing the school's phone number on Caller ID caused my heart to race with noticeable intensity. I had always downplayed the seriousness of what I faced, thinking that I needed to toughen up. Yet, something as simple as a phone call or a smell, or a sound, can propel a parent like me into the heart of that trauma once again in fractions of a second.
Others may see it before you do. Because our children need us to be strong and activated, we often don't see what these traumatic experiences have done to us. I first came to realize that I was facing PTSD every bit as much as my son, when a friend of mine who is a psychotherapist mentioned it. I had just shared with her and the rest of our Moms In Touch group my concerns regarding my son's trauma at our weekly gathering. After listening to my prayer requests she said, "My goodness! You probably have PTSD too after everything you've been through!" Her shared epiphany validated the subtle signs fighting for recognition in my own life.
It is not unusual to be re-traumatized. When we have a child who faces a lifetime diagnosis, traumatic experiences can and do reoccur. Each new treatment or hospitalization can constitute another emotionally jarring experience. Because this can be a distinct possibility with a chronic diagnosis, it is critical to have a preferred professional to whom you can turn at a moment's notice. Even if you are feeling well and strong, a sudden episode with your child can make psychological help necessary in short order.
This is not a quick fix. Be patient and kind with yourself. Trauma leaves deep, life-changing wounds. It is worth the time spent in therapy to heal your emotions and mental health. There may be times where you feel worse before you feel better, because you are exposing wounds that have been covered and buried deep out of a need to cope in the short-term. Don't give up in the sorrow of healing. Just as a plant needs to be watered before it can grow, our tears need to be released to move forward in hope.
There are a variety of options for treatment. Our son initially saw a child trauma specialist. She first used EMDR (Eye Movement Desensitization and Reprocessing) with him. Guided imagery was also used with this therapist. I engaged in hypnosis, progressive relaxation and other psychotherapy with this same professional. Ultimately, our son moved on to receive CBT (Cognitive Behavior Therapy) through a psychologist at our children's hospital. Do your homework on these methodologies to see which you might be most comfortable with.
There is life after trauma. While the real life terror of living through some of these experiences with our children can make us feel shaken and spun around at times, life can still be good. If you are willing to bravely address this tough issue in yourself and/or your child, the future can be bright. You need not live life in a perpetual state of tension, waiting for the other shoe to drop. You can begin to develop a joy for life and a positive outlook after addressing symptoms. I have been told in the past that PTSD never completely goes away. Not being an expert, I can't confirm that is true. However, I can tell you that things can vastly improve so that trauma no longer holds you and your family hostage.
"Caregiver, care also for thyself." It isn't always easy. We must be very intentional about it. Still, if we acknowledge our need as parents and address this vulnerability with commitment, we will find ourselves renewed and refortified the way God intends.
What Truths Have You Learned about PTSD in Parents of Kids with Special Needs?
Have you collected some truths about PTSD in parents while raising your child? Please share them in the comment box.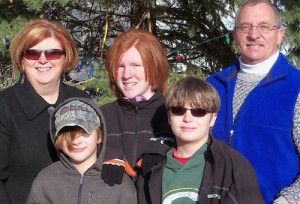 Do you like what you see at DifferentDream.com? You can receive more great content by subscribing to the quarterly Different Dream newsletter and signing up for the daily RSS feed delivered to your email inbox. You can sign up for the first in the pop up box and the second at the bottom of this page.
The mother of three children, all of whom have a variety of chronic illnesses or special needs, Barbara Dittrich founded Snappin' Ministries (Special Needs Parents Network) in 2002 and currently serves as its Executive Director.  The organization she leads was one of three finalists for World Magazine's Hope Award for Effective Compassion in October of 2009, in conjunction with the American Bible Society.  With a unique vision for serving parents of children with chronic illness, disability, or special needs, she has led the SNAPPIN' MINISTRIES team in developing an innovative parent mentor curriculum.  She lives with her husband of 20+ years in Wisconsin, writes, and speaks nationwide.
Subscribe for Updates from Jolene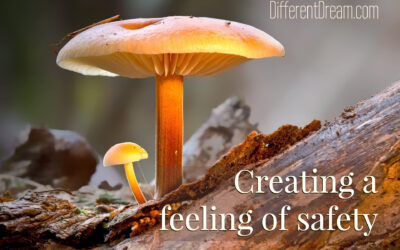 Whether your loved one suffers from trauma or dementia, the best question a caregiver can ask is, "How can I make you feel safe?"
read more