Aug 8, 2012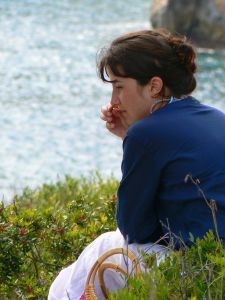 Survivor's guilt.
I first experienced it when we walked out of NICU with our baby son. He'd made a textbook perfect recovery, unlike other babies in the unit whose prognoses was grim. Guest blogger Kathy Guzzo also experienced survivor's guilt while parenting children with special needs. Today, in Part 1 of her series, she defines survivor's guilt and describes her experiences with it.
Survivor's Guilt and Parents of Kids with Special Needs, Part 1
by Kathy Guzzo
During my son's enlistment in the United States Marine Corp, his unit suffered many casualties. In my desire to learn how to help him through the vast array of emotions I knew he must be experiencing I read several articles and throughout many of them was the term "survivor's guilt." This was a term I'd never heard before and it intrigued me. It's defined as 'guilt or remorse felt after the death of a loved one'. However, after more study and thought, I realized that "survivor's guilt or remorse" could occur in a different capacity in other circumstances besides death and that it wasn't specific to the military. I also realized that I personally had felt it without knowing what it was.
Survivor's Guilt vs. Friend's Remorse
The first time as a mom I remember having guilt over a situation that I had no control over, was a few weeks before our son's birth. A friend's two-year-old son passed away within 24 hours of contracting a virus. The pain I felt for them was deep. I had questions, like all their friends did, but when our son was born I didn't know how to act around them. After all, our son was perfectly healthy and we were so excited, but their son had died. How could I be so happy when they were suffering so much? At time's I even felt it was wrong to share my joy with others. For month's I avoided them at church and other functions.
Experiencing Survivor's Guilt
The second time I remember experiencing the remorse survivor's guilt entails was less than two years later, when the same beautiful son I mentioned above, was critically ill and the doctors at a highly acclaimed university hospital were baffled. At one point because of an adverse reaction to anesthesia they prepared us for the worst, yet our prayers were answered and he survived. However, another child passed away while we were there that visit, and again my emotions fluctuated from feeling relief and blessed, to hurting for the other family. I knew how easily it could've been Brian, and I felt guilty for my joy and wondered to myself, 'Why them and not us?'
There were other incidences during our trips to the University Hospital when I had similar thoughts without a death being involved. Like when our son was doing better and other parents would ask about him while their child continued to suffer. It was hard to share how well Brian was doing. I'd tell myself that I didn't want to make them feel bad.
As our children grew, we dealt with other serious health issues, both acute and chronic, but otherwise we had great kids. However, that wasn't the case for a few of our friends. When some of their children rebelled, the hurt and questions were so evident in their hearts, that I had a hard time telling them about my kids' accomplishments in college, sports, volunteering, at their jobs, etc. Again, I felt bad that my kids were doing so well.
When Have You Experienced Survivor's Guilt?
Survivor's guilt hits most parents of kids with special needs at one time or another. Have you experienced it? What caused it? How did you respond? How would you counsel other parents to respond? Leave a comment and come back tomorrow for Part 2 of Kathy Guzzo's series about survivor's guilt. In it, she describes its negative effects and how to escape it's insidious whispers. See you then!