Aug 31, 2012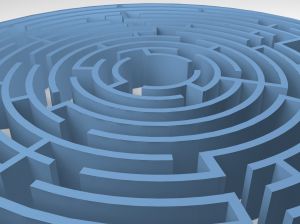 While puzzles and board games don't top my fun free time activity list, they do make the top ten. Somewhere after spending time with family, reading, cooking, and watching TV/movies on Netflix, but before swimming, shopping, and travel. However, when puzzles and board games are combined with spending time with family, it rockets to the top of my list and is hard to dislodge.
Meet Puzzle and Game Creators Bill Ritchie and Andrea Barthello
If you feel the same way, you'll be glad to hear about Thinkfun, a company that creates puzzles and games for kids of all ages. The family-owned company was created in 1985 by husband and wife team, Bill Ritchie and Andrea Barthello. Their website states their mission was and still is "To translate the brilliant ideas of the craziest mathematicians, engineers and inventors into simple toys that can be appreciated by boys and girls around the world."
Puzzles, Games, and Toys for Kids with Special Needs
Though ThinkFun doesn't design games specifically for those with special needs, therapists recommend several of their products to enhance the following skill areas:
Focus and Attention
Fine Motor
Memory
Number Sense
Social Play
Speech and Language
Visual
ThinkFun's Special Needs tab leads to a link where over 30 of their products have been analyzed and the results recorded on an easy-to-read chart. A click on the Parents Tab leads to information about parent guides for the products and allows you to read an online version of one of them. You can even play online versions of a few puzzles and games.
My kids would have loved some of these puzzles and games, and I'm bookmarking the site for future reference. With our first grandbaby due in September, I may need to place an order soon.
What Are Your Family's Favorite Puzzles and Games?
Now it's your turn. What puzzles and games do you play with your kids? Have they had therapeutic value, as well as being fun for your kids with special needs and typical kids, too? Leave a comment to recommend your favorite family fun non-screen pastimes.
4 Responses to "Puzzles and Games for Kids with Special Needs"