Aug 15, 2012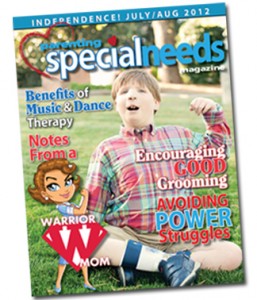 The latest issue of Parenting Special Needs magazine is hot off the online press. As usual it's packed with features and columns near and dear to the hearts of those raising kids with special needs.
Parenting Special Needs Magazine Sneak Peek
I wish there was time and space to list everything contained in the publication. But doing that would be kind of like creating an entire magazine. Since the folks at Parenting Special Needs already does that, I'll be content with giving you a sneak peek at a few articles in the latest issue:
Notes from a Warrior Mommy: How to advocate for progress monitoring in your child's school.
Spa Day: Teaching those with autism spectrum disorder good grooming basics.
Special Focus: This issue's special focus looks at dance and music therapies.
Alternative Diets: Information about the body ecology diet, Sara's diet, and the specific carbohydrate diet.
Shopping Tips: Two articles, one about getting organized for shopping and another about how to shop for healthy foods.
As with every issue, this one includes the From the Heart Column, contests and giveaways, Every Day Hero – an adult who contributes to the special needs community – and Tiny Lights, about a child with special needs who is intentionally impacting the world for good.
Check It Out for Yourself
The above list is only a smattering of articles in the new issue. Truly the magazine has something for everyone, so click on over to Parenting Special Needs magazine and start reading. If you haven't been to the website before, you'll need to register. But that's free, and they will not flood your inbox with spam email. The only time I hear from them is when they announce a new issue. So give it a try and leave a comment about what you like or don't like about the publication.