Jul 23, 2012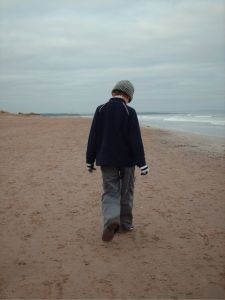 Summer's here, and families are spending more time outside. A good thing, certainly, but parents of kids with special needs must take precautions to keep children from wandering away. For today's post, the folks at Autism File Magazine contributed the following article on this important subject. Though written for families dealing with autism, much of the advice and many of the strategies apply to any child with special needs who wanders.
Autism & Wandering
by Lori McIlwain 
Last year, ten children with autism died after wandering away from a safe environment.
In May 2011, the Interactive Autism Network through Kennedy Krieger Institute released preliminary data on wandering in Autism Spectrum Disorders (ASD). The findings showed that roughly half of our children with autism have a tendency to wander away from safe environments.
Data also showed that more than one third of children who elope are never or rarely able to communicate their name, address, or phone number verbally or by writing; that two in three parents report their missing children had a "close call" with a traffic injury; and 32% of parents report a "close call" with a drowning.
Wandering was also ranked among the most stressful ASD behaviors by 58% of parents of children with autism. Sixty-two percent of families with children who wander were prevented from attending/enjoying activities outside the home due to fear of wandering, and 40% of parents had suffered sleep disruption due to fear of elopement.
As for resources and support, half of the families with wanderers reported they had never received advice or guidance about elopement from a professional.
These data underscore the urgent need for federal aid and resources to combat wandering incidents and provide critical support for caregivers. They also help increase understanding of the issue.
In 2011, quite a few GPS tracking-device retailers entered the market. Choosing the best type for your child can be tricky, and with promises of "peace of mind" and a much-needed break from the constant supervision needed to keep your wanderer safe, parents may be quick to buy.
Although some prefer radio-frequency tracking services that are facilitated by professionally trained emergency response personnel, such as Project LifeSaver and LoJack SafetyNet, they are not yet available throughout the entire United States. Luckily, parents in critical need of tracking services now have more GPS options.
No tracking device is 100% reliable, and there is not one solution that's appropriate for everyone. Some children are willing to wear a wristband, some are not.  Some need a waterproof device, some do not (note: "water resistant" differs from being able to pick up a signal under water). There are many variables parents must consider, including cost.
All tracking technologies rely heavily on parent maintenance. Failing to check battery life, or not recharging the unit could have dire consequences. It's critical that parents document everything, log daily battery checks, and alert someone immediately if the unit is not operating correctly.  Do your research: retailers often tout their systems as the "best" on the market. It's up to you to decide.
No matter what prevention strategies are in place, parents should never allow themselves to feel a false sense of security. Close and constant adult supervision of any at-risk child is crucial at all times.
New Advice from Best Practice
This year, the National Autism Association (NAA) compiled best-practice guidelines for wandering prevention and response, which includes a caregiver checklist. First and foremost, a multi-layered approach to prevent, and respond to, wandering emergencies is necessary to achieve optimal safety for your child. This includes educating your child on self-help skills including swimming, educating them about safety and potential dangers by using social stories, language, prompts, or any communication mechanism best suited for their individual needs. Teach them how to respond if they are alone or lost.
It's critical that caregivers work to understand what is causing, or contributing to, the wandering or bolting behaviors so triggers may be addressed or eliminated. The most important thing is that your at-risk child or adult learns to keep himself safe, while proper safeguards and adult supervision are also in place to help ensure safety. As we saw with Joshua Robb, a little boy lost in a forest for several days in California, your child's likes and dislikes can play a significant role in keeping them safe. Joshua liked Ozzy Osbourne music. Having this knowledge enabled first responders to play this music and lure Joshua out to safety. It's important that parents provide their child's likes and dislikes to local authorities ahead of time.
If you have a nonverbal child, talk to them about safety, potential dangers and self-help skills. It's important that we continue to explain what they should do, or not do, if they find themselves alone. All children should be taught their phone number and street address regardless of language function.
Swimming lessons are key, but teaching your child how to swim does not mean your child is safe in water. Fence your pool. Use gates that self-close and self-latch higher than your children's reach. To find local swimming lessons, visit ymca.com. The final lesson should be with clothes on.
Allowing your child to explore his/her fascinations in a safe setting is important. If your child loves water, establish a routine for water-play daily.  If he loves the merry-go-round at the local park, establish set times to take him there. Many children who wander are seeking out an item of interest.
On the flip side, children may also wander to get away from something – stimuli, a stressful situation, etc. Put extra measures in place during family gatherings, outdoor gatherings, public outings, school/classroom transitions, summer-camp activities, and visits to a friend's or relative's home.
ID's, such as MedicAlert, American Medical ID, a state-issued ID, Who's Shoe ID or a basic ID card is necessary for those at risk of wandering.
Simple door and window chimes are an inexpensive yet very effective way to alert you if your child attempts to slip away. You can find them online, or at your local Walmart. Home security systems such as ADT are also beneficial.
More Progress Needed
Although progress has been made this year to prevent wandering incidents, we still have a long way to go. AMBER Alert systems still fail to cover children who wander because of their disability. Pinpointing underlying medical reasons for wandering behaviors is also needed, and federal aid and resources for families can't come soon enough. In the meantime, parents can find more tips and information about autism-related wandering at AWAARE.org and NAA's new site, AutismSafety.org. For specific questions, write to naa@nationalautism.org.
Autism File magazine serves the families of the growing number of individuals diagnosed with autism and the professionals who work with and care for them. We provide our readers with up-to-date information on promising treatments and therapies, medical advances, education, nutrition, special diets and a host of other topics relevant to those affected by autism. Addressing both day-to-day and long-term concerns, our goal is to ensure that our readers have the content they need to make informed decisions in caring for their loved ones with autism.  Published bi-monthly, Autism File is available nationwide at Barnes & Noble, Books A Million and several other retail outlets, and by subscription.  For more information, visit www.autismfile.com or contact Rita Shreffler, Executive Editor rshreffler@autismfile.com.
How Do You Protect Your Child from Wandering?
Do you have a child who wanders? How do you handle the situation? What effective resources do you use? Leave a comment to share your expertise.
Jolene
2 Responses to "Special Needs and Wandering"