Jul 26, 2012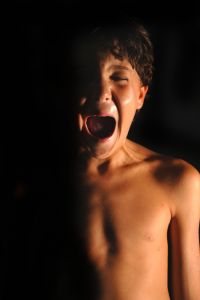 Sensory overload's been around much longer than it's present moniker. We used to call babies with sensory sensitivities "fussy." Sensory sensitive young children were called "belligerent." Or "stubborn." Or "difficult." But in truth, they were trying to cope with the sounds, textures, bright lights, and experiences bombarding their overly sensitive nervous systems.
Brain Balance Achievement Centers and Sensory Processing Disorders
An article published at Brain Balance Achievement Centers' website says this about sensory sensitivities:
Extreme sensitivity to noise, crowds, touch, textures, bright lights, bothersome clothing, and new experiences are often so overwhelming for kids with sensory problems that it can run their lives and the lives of their parents. When symptoms are severe enough to interfere with daily functioning, it is often referred to as Sensory Processing Disorder (SPD) and can be co-morbid with anxiety disorders and Autism Spectrum Disorders.
Four Ways to Help Minimize Sensory Overload
I don't know much about the Brain Balance Achievement Center approach other than what's written at their website. But the four strategies outlined in the article sound sensible and doable, so here they are:
Earn their trust.
Manage sensory exposure.
Schedule silence.
Seek professional help.
To flesh out each of the four points, check out the article Minimizing Sensory Overload in Kids with Special Needs at the Brain Balance website.
Your Sensory Sensitivity Strategies
Do you have a child with sensory issues? Do you teach kids who struggle with sensory overload? What do you think of the suggestions in the article? What would you add to them? Your ideas are most welcome, so leave a comment if you like!
4 Responses to "How to Minimize Sensory Overload for Your Child"