Jun 15, 2012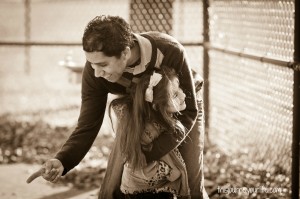 With Father's Day right around the corner, guest blogger Rudy Cordeiro has been thinking about his early days as dad to a child with special needs. His experiences over the years haven't all been easy, but they have given him encouraging words to share with other dads just embarking on the same journey.
My First Father's Day
by Rudy Cordeiro
The day seemed surreal. Sunday was usually my favorite day of the week, but on this Father's Day I felt strangely out of place. "Happy Father's Day!" people exclaimed.
Politely, I replied, "Thanks!" But my response felt empty.
I knew I would be a father, because I had dreamed of being one; just not like this. Talk about a different kind of dream! We had been anticipating our first child, but not this soon. My wife Rachel had been on hospital bed rest for five weeks, having initially experienced pre-term labor.  Because we were hoping that the labor would hold off at least for a few weeks more, I proceeded to help lead a missions team on a trip to southern Brazil. I wasn't scheduled to come home for two more days.  (Rachel's mom was staying with her while I was gone). But those plans changed.
Father's Day Surprise
To our surprise, Camelia Faith came into this world just one day over 23 weeks gestation—three days before my first Father's Day.  I was in shock when I received the phone call and my heart was broken that I wasn't able to be with my wife. Would my child even be alive by the time I arrive?
Within twenty-four hours, I had managed to drive back to the state capital of Brazil, catch a flight to Sao Paulo, and fly back to DC to meet up with my wife at the hospital. Although I had been in Brazil only 24 hours before, the trip quickly became a distant memory as my wife and I now had to face the grim realities of coping with a baby whose life was in jeopardy due to a severe premature birth.
Eight Years Later
Eight years later, those memories are still burned in my mind. They are sobering memories of a life seemingly lost, but thankfully I can rejoice today that my daughter, Cami, is alive and well. However, I still find myself asking: Am I really the parent of a special needs child? More often than not, I don't even have time to consider that thought; but for the times I do, an overwhelming sense of responsibility plagues my soul. I often wonder, Am I adequately taking care of the needs of my special needs child, or have I neglected some aspect of providing for her?
Though at times these questions bother me, I am encouraged by the fact that my miracle daughter is alive today, and her overall health is better than what we had originally hoped.
As a result of raising our first born, Cami, my wife and I have been blessed to learn so much along the way about the world of parenting a child with special needs. We have discovered a wealth of resources through wonderful people—many whom we now call friends—that have been providentially placed along the path of our life's journey.
Encouragement for Dads
To all the fathers of children with special needs, I want to offer this encouragement: the future holds much promise for each of our children.  As dads to special needs children, the future seems intimidating, but retrospect often proves we have been harder on ourselves than we needed to be. Instead, focus on cherishing each moment you have together as a family. Make memories and relish in them by making the most of every opportunity. Being a father is an awesome responsibility, but it is one of the most rewarding callings in this entire world.
Happy Father's Day!
What Was Your First Father's Day Like?
Thanks, Rudy, for sharing your story and for encouraging other dads on a similar path.
How about you, readers? What is your first Father's Day story? What lessons have you learned as the dad of a child with special needs? What encouraging words do you have for other parents? Leave a comment!